The 2020 baseball season is set to begin on July 24th for the Kansas City Royals. That date is more than three months after the original 2020 season was set to begin and more than four months since Spring Training was shut down on March 12th due to concerns surrounding the COVID-19 pandemic.
After months of uncertainty and unrest, professional baseball rolled out their return to play plan: a 60-game regular season, in home ballparks, with a full playoff schedule. The season is set to open for teams on July 23rd and 24th, with the regular season wrapping up on September 27th.
---
2020 Kansas City Royals Schedule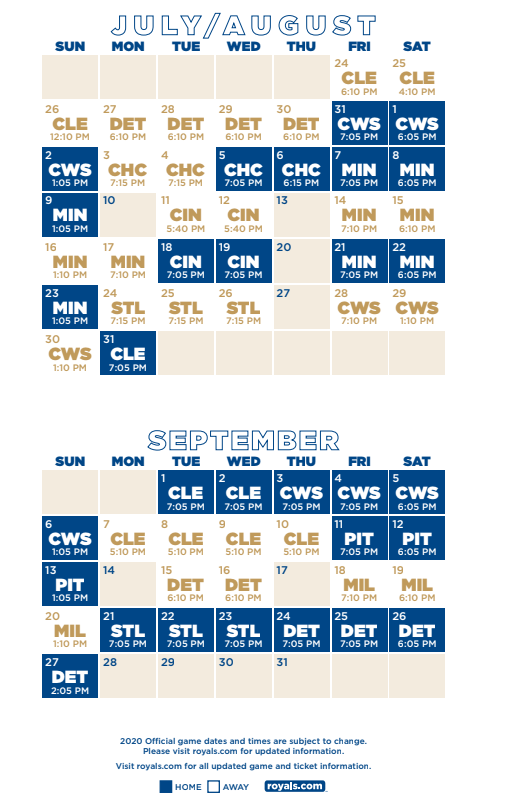 The Royals will play 40 of their 60 games against American League Central opponents. The other 20 games will come against National League Central opponents as baseball attempts to cut down on team travel.
---
A Fast Start for KC?
Kansas City will have a great opportunity to come out of the gates hot when the season starts. They have the fourth-easiest strength of schedule (.451) in all of baseball through the first two weeks of the season. A fast start will be important for Kansas City as 23 of their final 46 games will come against the Twins, Indians and Cardinals, all of which won 89+ games a season ago.
---
Divisional Madness
With two-thirds of the schedule coming against divisional foes, fans and players alike will be seeing a lot of familiar match-ups. The Royals will play the Twins ten times in a 17-day stretch in August. They will also play seven games against the White Sox over a ten day stretch. With that many games against the same team in such a short span, it's tough to tell who it favors more.
---
Fans in the Stands?
While baseball will not allow fans to attend games to start the season, fan attendance has not been completely ruled out. Multiple owners and executives across all of baseball remain hopeful that fans will be allowed into ballparks as the season goes on.
Fan attendance will be looked at under the guidance from each team's local authorities and the CDC. It is likely that fan attendance will not be viewed the same by all 30 clubs, and attendance could be different for each team and market.
If fans are allowed to attend games at any point during the 2020 season, you can count on Tickets For Less to be there to help.
---
2021 Schedule Released
Despite the first pitch of the 2020 season not yet being thrown, baseball released the full 2021 schedule on July 9th. It is the earliest the league has ever released an upcoming season schedule.
The season is set to begin on April 1, 2021 with a special twist. It will mark the first time since 1968 that all teams will open their seasons on the same day.