Kauffman Stadium is the home of the Kansas City Royals. Below, you can find seating information for Kauffman and the features some sections provide.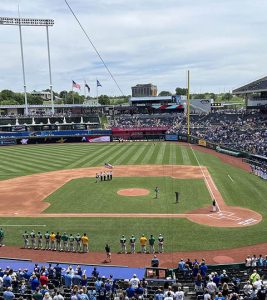 When Kauffman Stadium was renovated in 2008, the park added a host of new outfield concourse features along with the largest scoreboard in Major League Baseball. On the concourse in left field is the Royals Hall of Fame, where Royals memorabilia is on display. You can also take a picture with the 2015 World Series trophy in the Hall of Fame.
To beat the heat, you're going to want to sit on the left side of the field. The sun sets on that end and the upper deck keeps you in the shade.
There are many luxury seating options at Kauffman Stadium. These include Diamond Club, Signature Suites and Crown Club. The Diamond Club, as the chart shows, is behind home plate and features food and beverage service. The suites at Kauffman are just above the lower level along the first- and third-base lines. Crown Club seats are directly behind home plate and include food and beverage.
Call Tickets For Less to order any of these options at 877-685-3322.
Find parking information for Kauffman Stadium below.
Tickets For Less is an Overland Park, Kan.-based ticket seller that sells tickets to events nationwide. To order, call 877-685-3322 or visit our website.