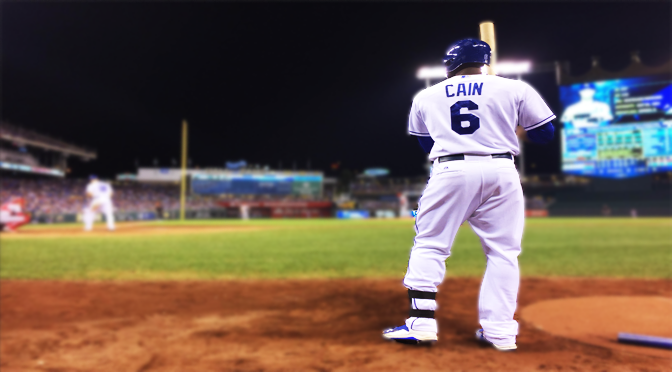 A four game series that gave the Royals a decent shot at pulling even with the Chicago White Sox has wet-washed it's way into a three-game weekend series that won't seem to hold as much drama.  And, it's possible Chicago ace Chris Sale gets pushed back a game and misses the Royals yet again.
Mother nature was rough in the Kansas City area yesterday, leading to an easy decision to postpone a game against a division opponent, who will be back a few more times this year. If anything you could say this is a good thing for Chicago to get a day off and regroup, they have been struggling as of late, they have dropped three in a row after being swept at home by Cleveland, and have lost 7 of 10.
Chicago still holds a half game lead at the top of the AL Central, Cleveland is in second, and the Royals two and a half games back are in third.
We knew the Sox would eventually cool off after their hot start. The issue is that Cleveland and Detroit are playing good baseball right now. There is no doubt that it looks like this division could be a four-headed monster, with all trying to win it and avoid that dreaded one-game wildcard.
The main reason it looks like any of the four teams can stay close to the top is that all four teams have a chance to just completely get fat off the lowly Minnesota Twins. KC, Chicago and Detroit are a combined 17-1 against the Twins.  That will keep you alive.
The Royals are now without All-Star Third Baseman Mike Moustakas, who is out for the year with a torn ACL. In hindsight, it's easy to say that Alex Gordon's hustle on that foul ball play last weekend was unnecessary. It's a foul ball in May: if it drops foul it's not the end of the world. Although the Royals hustle is what made them World Series Champions, you can certainly understand both sides of the argument. I personally don't get upset with "hustle" injuries unless it's just a ridiculous situation where a player maybe shouldn't have even been in the game. That was not the case last Sunday as the Royals were playing the first place team.  Every pitch and every out mattered and the Royals paid a high price.
Asked if he felt unlucky to have two serious injuries on one play, Royals manager New Yost chose to talk about how lucky the Royals were last year to have so few injuries. It's a solid point.
We have liked some things we have seen from Cheslor Cuthbert early on in this season. He has an exceptional glove, and has made some great plays at the hot corner, but he's not Moose. He's the kind of guy you like to have in the dugout to fill some holes, but he's not an everyday player in the bigs. Cuthbert can't possibly provide the power numbers Moose did and the Royals will miss that.
And don't count out Christian Colon eventually, or a trade by GM Dayton Moore.  They know Moose is lost so it's all hands on deck.
The Royals have a serious issue now with Moose, Gordon, and Morales all banged up. There's a lot of home runs missing in this lineup so the Royals probably have to turn to small ball.  Gordon and Morales have been awful so far this year, so we will see how they do when they get healthy.
It's not full on panic mode in KC yet; the Royals have been winning lately and have some decent pitching. There are some serious concerns as to how the Royals will make up for Moustakas' production at the plate. A trade this summer might be necessary.
Tonight will be Danny Duffy facing off against Miguel Gonzalez. Both guys have been tossed into the rotation within the last month, and both have yet to win a start for their clubs. Duffy has been limited by Ned Yost, and hasn't been able to go further than the 4th inning because of it. He's had a few starts under his belt, let's see if Ned lets the leash off him anytime soon if he continues to pitch well.  If Duffy throws well… he gets at least 80 pitches Friday night.
Plenty of tickets are available for the weekend series against the Sox at ticketsforless.com. Give them a call, they have tickets for any budget.
Tickets For Less is an Overland Park, Kans.-based ticket seller. To order tickets to sporting events and concerts in Kansas City and around the entire country, call Tickets For Less at 913-685-3322.
---
Subscribe to Tickets For Less emails!