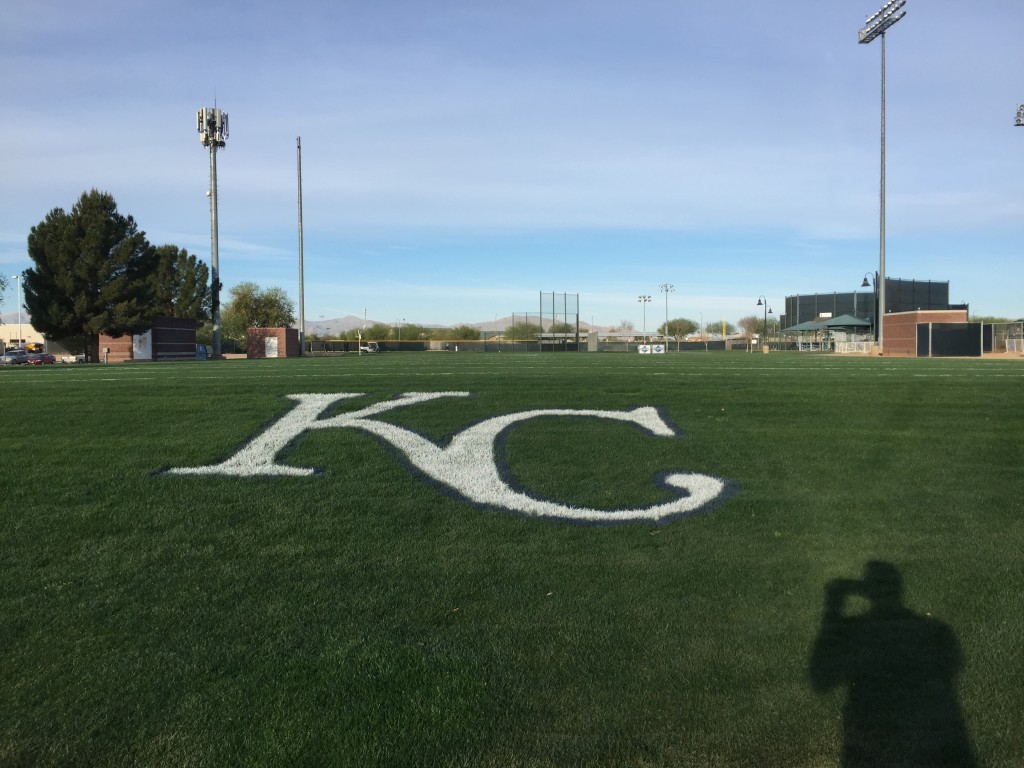 Who's going to spring training?  Seems like everyone I talk to plans to make the journey to the Valley of the Sun, including many first-timers.  So here's some advice, recommendations and favorites of mine as I enter my ninth season covering Royals baseball.
"WE TALKIN' ABOUT PRACTICE"
Allen Iverson said it's all about the game in that famous practice rant yeas ago.  Who doesn't want to see a game, but before you hit Surprise Stadium, come check out the workouts in the morning.  I love wandering around the backfields catching a glimpse of the minor leaguers.  You can sit close enough to really understand the athleticism and snap some good pictures so that one day when one of these kids becomes a star you can say you saw him way back when.  Venture over towards the George Brett Field and you may see the big leaguers taking batting practice.  It's a much more intimate environment than sitting at Kauffman Stadium and you can usually hear the chatter and laughter from the likes of Lorenzo Cain, Eric Hosmer and the nonstop booming voice of first base coach Rusty Kuntz.
AUTOGRAPHS
There's no better place to gather autographs than spring training.  Here's one piece of simple advice when looking for that signature.  Whether on the practice fields or inside the stadium, be aware of how busy a player looks.  If he's getting ready to swing a bat or pitch to a catcher, you may want to wait.  The guys are very friendly and accessible but also need to complete their work.
BELL ROAD
If you're coming from further away and the GPS shows a trip down Bell Road, plan on extra time.  Five miles can take 25 minutes and will test your patience, so plan accordingly.
RESTAURANTS
I can't speak as well for downtown Phoenix, Scottsdale and other  hot spots, but if you spend anytime in the Surprise area, I have some suggestions.  I love Las Fuentes, a Mexican restaurant about 10 minutes from the stadium.  A trip over to Peoria or Goodyear for In-N-Out Burger is worth the drive and there's good pizza in the area, including Lucky's close to the Royals facility.  Every chain in existence also can be found on Bell Road.
HIKING
My family and I go hiking at the White Tank Mountains every year.  It's only 20 minutes from the stadium and there are multiple levels of hikes.  Well worth the time and the scenery is spectacular.  Plan accordingly with sunscreen and water because it can be awfully hot this time of year.
DAY OR OVERNIGHT TRIPS
We drive to Sedona every year and marvel at the views and magical feel in that city.  Well worth the trip if you like to hike, want to take a jeep tour or just hang out and it's a completely different feel than Phoenix.  It's a two hour drive and if you have more time the Grand Canyon is incredible and a bit further.
Just a few of my favorites as I get out of the tourism business and back to baseball.  Hope to see everyone at Surprise Stadium or the "K" soon.  Enjoy!