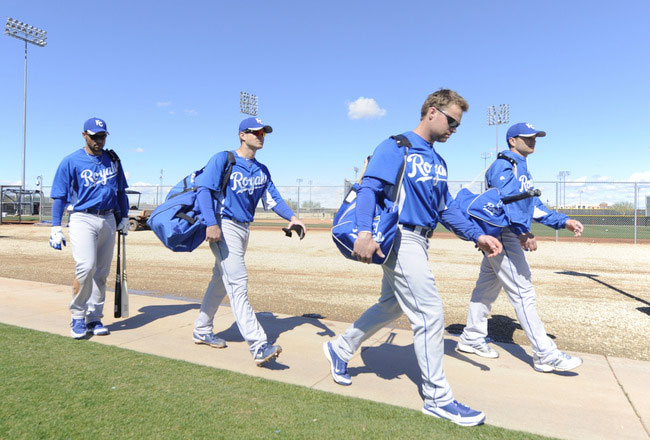 A national publication says the Royals and Cardinals, in that order, were the two luckiest teams in baseball last year. For the record, the Royals led the American League in wins, while the Cardinals topped the National League in victories. Those prognosticators at Sports Illustrated might want to revisit where they picked the Royals to finish a year ago (less than 80 wins). The Royals won 95 games. That's not luck.
The Royals have improved their record 7 straight seasons and apparently are somewhat comfortable making few significant changes in the off season. This is not a good sign. This could bite them. On paper, they lost a lot more than they gained. Ben Zobrist and Johnny Cueto are gone through free agency. The Royals are spending nearly $100 million dollars to replace them with a pair of 30 year old pitchers who have been under the Tommy John surgical knife.
Ian Kennedy gave up the 4th most home runs in baseball last year with 31. Kennedy who will turn 32 this season will probably be the No. 3 guy in the rotation. He's an innings eater and one of 28 pitchers in the majors to throw at least 200 innings last year. The Royals had one, Edinson Volquez, who was No. 28 on the list.
Zobrist, as a rental, was one of the key players last summer in leading the Royals to their first world championship in 30 years. Zobrist will be replaced by Omar Infante, one of the worst players in the league last year. The Royals are stuck with the 34 year old second baseman unless they want to eat his $17 million in salary the next two seasons. That's not happening with a $130 million dollar payroll.
The Royals still have issues in right field. They head to spring training this week with a platoon system. Manager, Ned Yost, seems to be content with alternating Paulo Orlando and Jarrod Dyson out there. Dayton Moore has been a miracle worker in this great turnaround but he has been unable to fix that situation in right. Aoki 2 years ago and Rios last year. Rios was the 2nd highest paid player on the team.
The Royals still have a 2 year window before free agency will dismantle this roster. Remember the Royals depleted their minor league left handed pitching in a tradeoff to win it all last year. No complaints here. A World Series title was well worth it.
Moore, preparing for the future, did buy out the first two years of arbitration for Lorenzo Cain and Mike Moustakas. That's another $30 million plus in payroll. Still a far cry of what those salaries will escalate too in a couple of years.
The other thing here, this roster is quietly growing a little long in the tooth. There could be 7 pitchers 30 years or older on the roster opening day. Another 7 position players fall under the same age category. Of course, the other way to look at it, this team is well balanced with a lot of veteran experience. Look at the results a year ago:
One player hit over .300.
One hitter drove in more than 100 runs.
One pitcher threw 200 innings.
Now it's a new season. The Royals try to become the first team to win back-to-back World Series Championships since the 2000 New York Yankees.