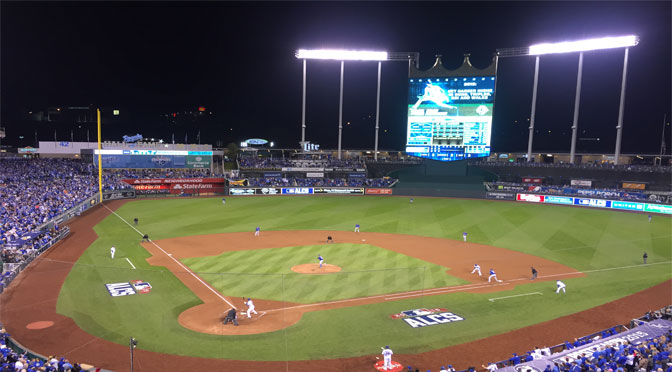 After taking a 3-1 series lead with a dominating 14-2 game 4 win, the Kansas City Royals closed out its three games in Toronto by struggling to make anything happen offensively against the Toronto Blue Jays in game 5.
Now, Kansas City head back to the friendly confines of Kauffman Stadium to host what hopefully turns out to be the series-clincher in game 6, Friday night.
Outside of an Alcides Escobar single and a Salvador Perez solo homer, the Royals had trouble seeing the ball and generating hits against Toronto, Wednesday night.
It should come as a shock, however, that Toronto would come back ready for some revenge after being utterly embarrassed the previous day.
The Rodgers Center also proved to be very friendly to the home team when the bats were on, giving way to a multitude of timely home runs, something Toronto has enjoyed throughout the season.
Now that the two teams are headed back to Kansas City and the pitcher-friendly Kauffman Stadium, the pendulum once again swings the Royals' way. Home runs aren't as likely to occur, particularly if Yordano Ventura–the game 6 starter–is locating his pitches and staying away from the middle of the zone against the big bats of the Blue Jays.
As they did in games 1 and 2, the Royals need a solid 5, possibly 6 innings from Ventura before turning the ball over to Major League Baseball's best bullpen.
Offensively, Kansas City will have its hands full against David Price, one of the very best in all of baseball, despite having an 0-7 postseason record as a starter including a loss in this series.
In order for the Royals to avoid moving the series into a do-or-die game 7, the bats will need to be alive early against Price, and the under control and mentally focused Yordano Ventura needs to take the mound. When the young ace is on, he has Cy Young stuff, but when his mental focus wains and he lets emotion control him, he tends to let offenses get on a roll.
Ned Yost will keep a careful eye on his starter in game 6 in order to control the number of runs the Blue Jays put together. Should the Jays get the better of Ventura early on, you can expect Yost to pull him in order to stop the bleeding.
One would expect the Blue Jays to do something similar should Kansas City hit David Price, but unfortunately for Toronto, its bullpen isn't nearly as fresh or deep as the Royals, which puts them in a difficult situation for both game 6 and potentially game 7.
Without a doubt, fans in Kansas City are either feeling confident about game 6, or extremely nervous after watching their team struggle to hit the ball on Wednesday.
As Yost told the media, Thursday, the Royals are actually in the position you would more or less expect in this type of series; winning games 1 and 2 at home, and stealing one of the three on the road in order to bring it back to Kauffman Stadium for the chance to clinch.
With a 3-2 series lead, KC is still very much in control of its own destiny. Meanwhile, the New York Mets are watching and waiting for either Kansas City or Toronto for Tuesday's game 1 of the 2015 World Series.
Game 6 of the ALCS is here and your Kansas City Royals have the chance to clinch a spot in the 2015 World Series. Tickets For Less has seats available throughout Kauffman Stadium for what should be an exciting night for baseball. You can purchase your tickets, today, for Friday's game 6, at Tickets For Less. With zero hidden service fees, you'll know exactly what your paying without fear of last-minute fees being tacked on to your total. Don't miss your chance to see the Royals secure their spot in a second consecutive World Series. Get your seats today, and GO ROYALS!