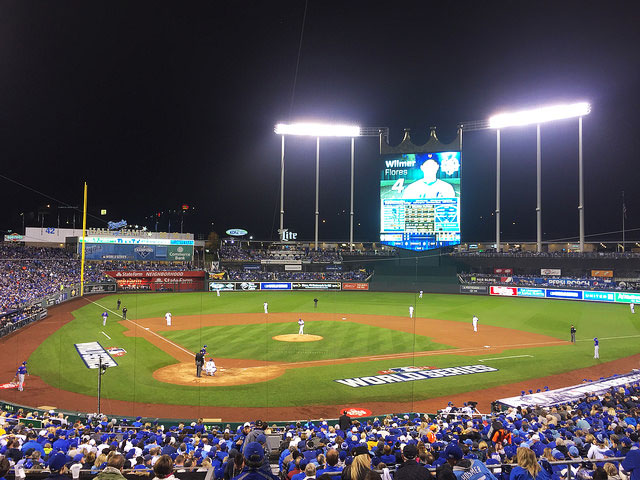 Getting to the World Series is hard, getting to the World Series two years in a row is even harder, and starting off with a 2-0 lead and looking dominant in the World Series would seem like a dream come true.
For the Kansas City Royals, you couldn't ask for a better scenario.
After a marathon win in 14 innings after Alex Gordon sent the game into extras with an absolute bomb (what could end up being the biggest hit in the entire postseason), followed up by a complete game–the first by an American League pitcher since 1991–from Johnny Cueto in a 7-1 route, the Royals arrive in New York at Citi Field for a chance to potentially finish off the Mets without having to come back to Kansas City.
Ideally for Royals fans would be KC winning a championship at Kauffman Stadium in a game 6, but at this point, this team may not need 6 games with the way they are playing.
Whether it be a 440 foot blast from Gordon, or a multitude of singles in a long inning to wear down the starter and send him packing, the Royals can win in whatever fashion is required.
The lineup from top to bottom is relentless, and although the Royals will lose an important batter in DH Kendrys Morales while playing in New York, Ned Yost has the knowledge of how to play National League rules, and plenty of depth to adjust with pinch hitters throughout the course of a game.
For New York, sending out Noah Syndergaard, the 100 mph-hurler, may be the bandaid needed to stop the bleeding at this point. Syndergaard is by far the hardest throwing pitcher in the Mets rotation, but with his biggest weapon being the fastball going against MLB's best fastball-hitting team, something has to give.
The question will be what performance will KC get from starter Yordano Ventura. So far, Edinson Volquez and Cueto pitched incredibly well. Now, it's Ventura's turn.
The young righty is KC's hardest throwing pitcher, and possesses great stuff off the mound, but often times has trouble with controlling his emotions, particularly on the road in a hostile environment.
In order for the Royals to take an almost impossible to overcome 3-0 lead in the series, Ventura will need to channel his teammates and pitch a steady and commanding game, while letting the offense take care of business.
The Mets aren't a team with much of a threat to run away with a high number of runs scored, so as long as Ventura can control the game and keep it close, the Royals will have a chance, whether they get down or not.
To the dismay of the Mets and virtually every other opponent over the past several season, the realization that the Royals simply don't go away and will grind you to death is a mental challenge by itself, not to mention the pressure of approaching must-win baseball in this series.
In no way, shape, or form do the New York Mets want to lose the opener at home and go down 3-0, which means if they struggle to hit the ball early, they likely start pressing at the plate and over-swinging, which plays right into the hands of Kansas City, which is a team that rarely strikes out and makes contact with the ball every single at-bat.
Ned Yost and his staff do a masterful job of finding out your weakness, and exploiting it. It would appear the Royals have figured out that New York is going to throw hittable pitches, and its defense, particularly in the infield, isn't strong, which means getting the ball in play can result in moving guys around the bases.
It'll be an exciting weekend of baseball with the goal to win just 1 of 3 at a minimum, and 2 of 3 resulting in a World Series title.
While the Royals might bring home a championship without needing to come to Kansas City, game 6 and game 7 tickets are on sale now at Tickets For Less. With zero hidden service fees, and a 100% guaranteed refund for games not played, it's zero risk to ensure that you secure your spot at The 'K' for what could be historic night in Kansas City. Choose from a variety of seating and parking pass options and cheer on your home town team as they try to close out the New York Mets for the city's first World Series title since 1985. Go Royals!