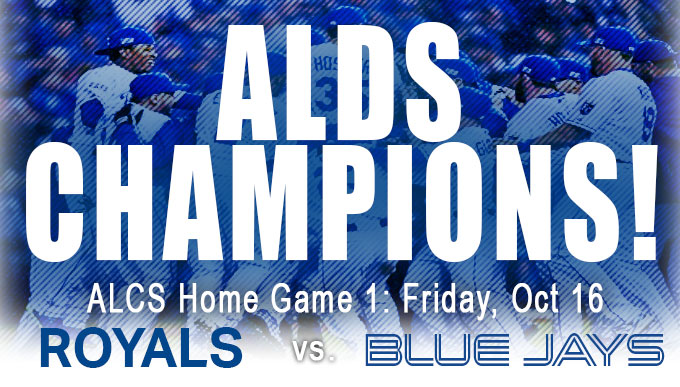 It wasn't the easiest series the Kansas City Royals have ever played, but they certainly made game 5–the elimination game–look like a breeze behind Johnny Cueto's best performance as a Royal.
If not for a mis-throw from Mike Moustakas, Cueto would have had a no-hitter for his first playoff win as a pitcher. Instead, he limited himself to one mistake in the second inning, followed by 19-straight outs.
To back him up, the Royals offense showed up in full force from up and down the roster. The highlight of the evening came when Alex Rios, playing in his first playoff series after more than 1700 games played in his career, hit a 2-run double to give the Royals the lead. Later in the game, with the Royals up 4-2, Houston brought in ace Dallas Keuchel to try and shut down any further damage.
Kansas City's Kendrys Morales had a different idea, blasting a deep, no-doubter homer to right-center and securing a 7-2 lead and giving the ball to closer Wade Davis to take the series and send KC back to the ALCS.
Now, the baseball world has the matchup it wanted, Kansas City and Toronto, the two best teams in the American League and two teams which have similar identity's; attack pitchers early, explosive offense, and shut-down defense.
The Royals and Blue Jays also made major moves prior to the trade deadline this season with KC acquiring Ben Zobrist and Johnny Cueto, while the Jays went out and got Troy Tulowitzski and David Price.
With the Royals taking home-field advantage in the playoffs, Toronto will come to Kauffman Stadium and face one of the more intense road atmosphere's you'll find in all of baseball. Conversely, the Royals can expect the same in games 3, 4, and potentially 5 if needed.
In Toronto's game 5 victory over the Texas Rangers, its fanbase proved to be rowdy in their own right, bordering on dangerous when debris was thrown on the field multiple times during a 56-minute 7th inning which featured seemingly every bizarre circumstance one could imagine.
Needless to say, the series is sure to have plenty of fireworks.
Kansas City and Toronto had several tense moments in their series earlier this year, with both sides clearing benches and jawing back and forth. With the playoffs already supplying plenty of intensity, the history of the two teams in a postseason setting will only add to it and provide fans with what should be a great ALCS.
Game 1 of the 2015 ALCS takes place Friday, October 16 at 7 p.m. Playoff tickets to every ALCS game at Kauffman Stadium are available now at Tickets For Less. With a variety of seating options throughout Kauffman Stadium, you have plenty to choose from in securing your spot in what should be an incredible atmosphere in Kansas City. World Series tickets are also available for purchase, and with zero hidden service fees, what you see is what you get. All games not played are 100% fully refundable, so don't hesitate to get your tickets now at Tickets For Less. Go Royals!