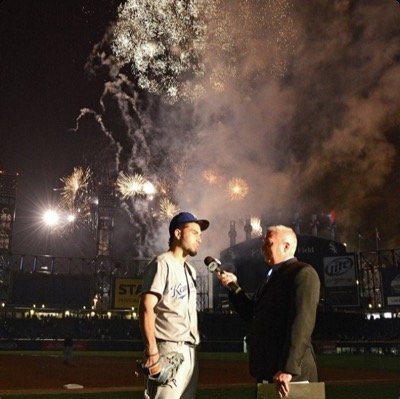 My friends at Tickets For Less asked me if I would be interested in writing a blog for them.  As a guy who is always told to wrap it up by my producer ("but I have more to say") and ignored during rants at home by episodes of "Cake Boss" or whatever reality show may be on, a blog seems like a good way to reach out, vent, ramble or all of the above.  Those who know me say I do that already.
I'm fortunate to cover a sport that's a marathon, until it's a sprint, aka baseball.  Every game matters, but unlike football or basketball, a manager must pace his team for the daily grind of 162.  Only one-third of all MLB teams make the playoffs, and then the race truly begins.  Which leads me to some of the fan feedback I receive on a daily basis. Within moments of a loss, I will receive the a Tweet wondering, "Are we even trying?" Others question chemistry and effort.  "Yost and players think they can coast.  Time for a team meeting," one fan suggested to me.  This comment came after the Royals lost their fourth straight, tying a season high for consecutive losses.  Only the Cardinals have suffered fewer such streaks.  In comparison, the Yankees lost six straight in May.  The Astros dropped seven in a row.  It's baseball, part of the peaks and valleys of this six-month adventure.
If you returned from Mars (that's coming soon, right?) and were dropped into Kansas City the first week of September without knowledge of the season and turned on sports radio or took a peek at social media, you might think the Royals sat in last place.  Let's flashback for a moment to September 8, 2005.  The Royals were 44-93 and Angel Berroa hit a home run to lead Kansas City to a win over the first place White Sox, trimming the gap to 41.5 games.  Perhaps folks in Chicago wondered how their team could lose to the cellar dweller.  Three years later the Royals rattled off seven straight victories and ended the year victorious in 13 of the final 16 games.  The end result was an escape from the gutter and a 75-87 record for a group led by Jose Guillen, Tony Pena Jr., and Ryan Shealy.
"OH WELL….11-game lead.  Just keep mailing it in Royals," one man Tweeted me after a recent loss.  Wait, the person returning from Mars thinks reading this Tweet.  The Royals are 11-games up in the division and people are upset?  A look at the standings and he sees a Royals team with the second best record in the majors.   He drops by the stadium on a school night and notices the huge crowd.  Tickets For Less can vouch for this.  Business is good every night.  Some fans may be worried about home field overall and a loaded Toronto team, but Ned Yost wants a healthy group for the sprint.  These freak outs, by the way, happen in every city. Even in St. Louis with the so called "Best Fans in Baseball." It's part of being a fan, but not all losing streaks are created equal.  The 2006 team dropped eight straight in September on the way to 100 losses.  This is not the Jeff Keppinger, Esteban German Royals.  My only advice is take a deep breath and enjoy the ride. Who knows what will happen in the playoffs.  All I can promise is the Royals will be there.