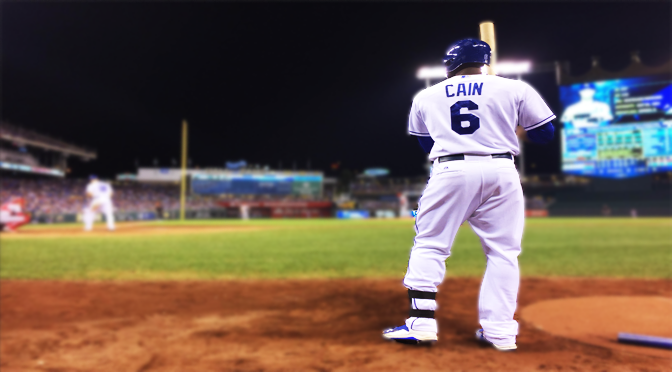 It was good to see the Kansas City Royals celebrating jubilantly again.
With one out in the 10th inning, Lorenzo Cain singled and scored Paulo Orlando from second base to take down the Seattle Mariners at Kauffman Stadium and inject some life into a team and its fans in need of something to get rowdy about.
It's been a dismal month for the Royals. A lack of winning baseball–taking home just 5 wins in 17 games–and winning just one series in recent weeks (against the Detroit Tigers), moans and groans have started to fill the stadium as opposed to wild sounds of celebration.
Fittingly enough, Cain, a hero of the 2014 playoffs, came through in the clutch in what could be a turning-point for KC with just 11 games to go before the postseason begins.
With a magic number of three, and just a win to go along with a Minnesota loss, needed to clinch a division title, it's time for the Royals to shift up from their 3rd gear coasting and make a charge into the playoffs playing World Series-level baseball.
Local radio hosts, fans, and even Ned Yost have tempered the mood by trying to explain why the Royals' struggles have been a theme recently, saying that it isn't something to be worried about. However, anyone that follows sports and knows trends would tell you that heading into the postseason playing at your worst isn't the momentum push one would desire if your goal is to bring home a world championship.
Really, the clinching of a division title would go far in settling fans while also taking some pressure off the players after a long season.
Despite their struggles coming with a not-such-a-big-deal attitude, you'd have to assume the team knows they aren't playing great baseball and need to get things going.
With four home games left and plenty of chances to lock in the division crown in front of their own fans, Kansas City is on the cusp of crossing their first finish line of the year. Beyond that, the ALDS awaits and the Royals will attempt to complete some unfinished business from a season ago.
Cleveland comes to town beginning Friday evening. The three-game set is the final group of home games at Kauffman Stadium during the regular season. Tickets For Less has incredible seating options available throughout Kauffman Stadium. Visit Tickets For Less and purchase your seats for the final at bats before the quest for the crown begins. With zero hidden service fees, you know what your price is before you finalize your purchase. What you see it what you get at Tickets For Less, so be sure to get out to Kauffman Stadium and see the Royals make history!