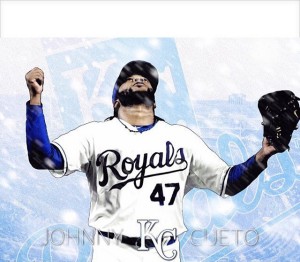 Saturday evening, Kansas City Royals fans hopped on the up-and-down 15 hour roller coaster involving a potential trade for Johnny Cueto of the Cincinnati Reds.
There had been talk for several weeks, if not months, that the Royals would potentially be a leading suitor for Cueto leading up to the July 28th MLB trade deadline.
Saturday, word began to leak that a trade was in place and a deal was on the verge of completion for Cueto, once of baseball's best pitchers and a true ace the Royals need in the rotation as they continue to work with Yordano Ventura's inconsistency.
Sunday morning, the trade appeared to be falling through, as there was some talk of a medical issue with one of the key pieces the Royals were offering.
Soon after, around 10 a.m., the trade appeared to be back in place.
As the next several hours rolled along, Royals GM Dayton Moore joined the pre-game radio broadcast and was asked about the trade. In typical fashion, Moore essentially said there wasn't much truth to the rumor and modern day media coverage and social networks enhance rumors to make people believe they are true.
Although Moore denied any move with Cueto (but did say they are active in the market for any additions to improve the team), it wasn't but 90 minutes later, during the last of a three-game set with the Houston Astros, that the deal was announced and fans found out their top target would be on his way to Kansas City.
With Cueto, the Royals send a message to the rest of the league that they are ready to win right now and they are going to put together a team which can get it done.
Looking back at last season, it was essentially a true ace, No. 1 starter, San Francisco's Madison Bumgarner, who ended the Royals' bid for a World Series. The Royals had only one obvious need; a dominant No. 1 pitcher that can take the mound and win a game 1 and game 5 in a playoff series.
With Jason Vargas out for upwards of 14 months and some relative uncertainty with Ventura, the Royals now have re-gained their starter depth and added a dominant arm to the rotation.
Cueto heads to the Royals with a 7-6 record, a 2.62 ERA, and an outstanding 0.93 WHIP. In his six recorded losses, Cueto has only received a total of nine runs from his offense, making any run support during his outings nearly non-existent. In Kansas City, Cueto will have a steady and explosive offense to go along with baseball's top defensive unit, giving him the support to have a record more indicative of his talent and ability.
Next up for Kansas City is the start of a 10-game road trip, which will kick off in Cleveland for a three-game series against the Indians.
Cueto's first scheduled start will be game 2 of a four-game set against Toronto, Friday.
Tickets are available for all home and road games, so don't miss out on your chance to cheer on the Kansas City Royals as they make yet another run at the playoffs. Tickets For Less has the best deals in town with ticket packages which put you front and center for all the action at Kauffman Stadium.