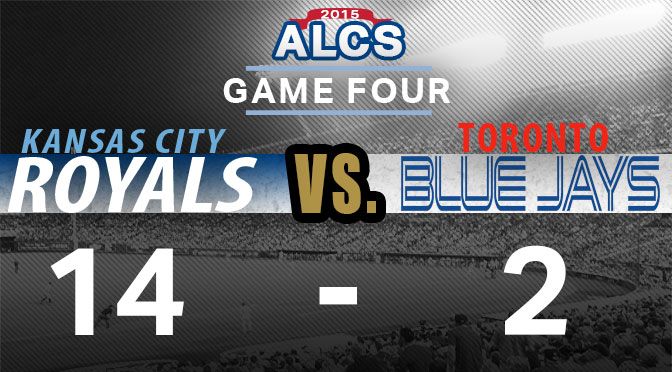 Not many would have guessed that following an 11-8 loss which wasn't really that close until the 9th inning would be followed up by a 14-2 route by the Kansas City Royals, yet, that's exactly what the American League Central champs did, Tuesday afternoon.
After Alcides Escobar led off the first inning with a hit, second baseman Ben Zobrist followed with a 2-run homer to quickly put KC up in the top of the first inning. That fast start would result in Toronto's starter R.A. Dickey being pulled after an inning and two-thirds, giving up five runs and putting his team in a 5-0 hole just as the game was getting started.
Royals starter Chris Young was solid, giving up just two runs and pitching into the fifth inning before giving way to the bullpen to bring the Royals home.
Not only did the bullpen hold the Blue Jays scary-strong offense in check, the offense of the Royals continued to poor it on, scoring all the way through the ninth and ending with 14 runs on the night and taking a commanding 3-1 lead in the series which has every chance to end in Toronto, Wednesday.
With Edinson Volquez taking the mound for the Royals and Toronto being forced to use much of its own (and not as deep) bullpen on Tuesday, Kansas City is likely to be favored in game 5.
Even with a loss, though, Kansas City would head back home with a 3-2 series lead and a chance to secure a spot in its second consecutive World Series with a game 6 win.
If not for a poor pitching performance from Johnny Cueto, the series quite possibly could have been locked up with Tuesday's 14-2 slaughtering.
The Royals scored 8 runs on Monday, but gave up 9 runs early on and simply couldn't recover during the game, however, postgame and into Tuesday, KC seemed to put the loss behind them rather quickly, and with Dickey's knuckleball pitches hanging up in the zone and providing little downward action, the ball was flying all over the Rodgers Center.
Wednesday, KC will attempt to punch its ticket in another World Series and prove to the baseball world–at least those that still don't believe–that the Royals are a competitive team here to stay.
With a lineup full of above averaged to great defenders, and a team of solid hitters that can move players around the bags and manufacture runs as well as hit the long ball, the Royals are a scary team to face over the span of a seven-game series.
Toronto is a team loaded with 3-4 power hitters and several average offensive players, which typically proves to be a struggle in the postseason as players swinging for the seats every at-bat aren't going to see the pitches needed to hit the long ball.
Royals pitchers have done a masterful job of keeping the ball on the corners and either up or down and away from Blue Jays hitters, not allowing the ball to come inside where they can turn the bat over and lift them out.
The pitches which have resulted in homers have been mistakes, and there have only been a few of them.
Volquez will look to have a mistake-free day in game 5 and lock up a series win for his team, especially if the bats are as live as they were in game 4.
Should the Royals come up short, the series will head back to Kauffman Stadium for game 6 and a potential game 7.
Your Kansas City Royals may not need a game 6, but at Tickets For Less, you can purchase your ALCS game 6 and 7 tickets today with a 100% fully refundable guarantee should those games not be needed. With tickets available throughout Kauffman Stadium, you can select from a variety of seating options at tremendous prices with parking passes also available. With zero hidden service fees, what you see is what you get, unlike our competitors. Don't miss your chance to witness the Royals make history by securing your spot at the 'K'. Go Royals!