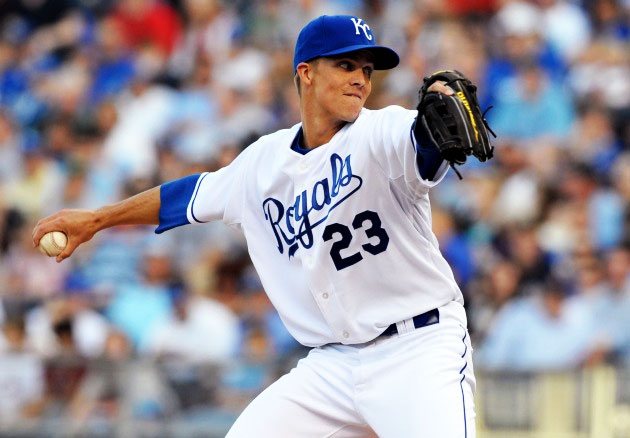 December 19th, 2010 may not be a date on the minds of many Kansas City Royals fans during this playoff race, but it's a moment in franchise history that continues to pay dividends.  That was the day Royals general manager Dayton Moore sent star pitcher Zack Greinke to Milwaukee in a trade for four young players, including center fielder Lorenzo Cain and shortstop Alcides Escobar.
Nearly five years later, Kansas City finds itself one win from a return trip to the World Series.  Since the move, Greinke has pitched extremely well for three different teams.  He helped lead Milwaukee to the playoffs in 2011 but the Brewers lost in the league championship to St. Louis.  The Angels acquired Greinke during the next season but never advanced to the postseason during his 13 starts with Los Angeles' American League team.  Three subsequent years with the Dodgers resulted in playoff appearances in all three seasons, but again, never a trip to the World Series.  Greinke may win the Cy Young award after a spectacular 2015 but his nine career playoff starts since the Royals trade pale in comparison to the numbers put up by Cain and Escobar.
Cain's streak of 13 straight playoff games with a hit ended Wednesday in Toronto, but he broke a Royals franchise record along the way when he passed Amos Otis's mark of 11 set back in 1978.  Cain has taken the field for 25 playoff games as a Royal and won the American League Championship Series MVP award last year after batting .533, scoring two runs and playing spectacular defense en route to the Royals sweep of Baltimore.
Cain's 30 playoff hits since 2014 rank second in all of baseball behind Alcides Escobar's 35.  Escobar has also played in all 25 Royals postseason contests and he should be a lock to follow in Cain's footsteps as ALCS MVP IF the Royals can close out the series. Through five games, Escobar has posted a .526 batting average.  He became the first leadoff man in American League Champion Series history to notch a hit in his first at bat in each of the first four games of the series.  Escobar's ten hits are the most by a Royal in a single ALCS, breaking Willie Wilson's record of nine from 1985.  Only three players in ALCS history have more hits from the leadoff spot than Escobar.  Tim Raines with 12 in 1993 for the White Sox leads the way.  Kenny Lofton in 1995 and Jose Offerman in 1999 each posted 11.  Escobar could pass all three and possibly lead the Royals to their second straight World Series.  Kansas City won that trade back in 2010.  Now they hope to win a prize that has eluded them for 30 years.