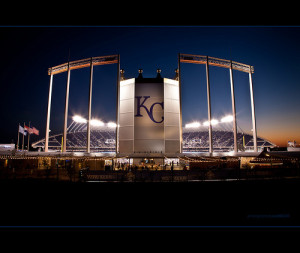 Fans, the 2015 MLB Postseason is upon us and your Kansas City Royals are primed for another run towards a World Series appearance.
Tickets are now on sale for all Royals postseason games and as the standings currently sit, the Royals control home-field advantage throughout the playoffs, which means you'll have ample opportunity to see your home-town team at Kauffman Stadium this postseason.
Tickets For Less has incredible seating options throughout Kauffman Stadium and all purchases have ZERO hidden service fees, so what you see is what you get when making your purchase on tickets.
Other sites show you the price for tickets, but when it comes time to finalize your purchase, additional undisclosed service fees dramatically increase the cost.
Having been in business for 11 years, Tickets For Less never has and never will, sneak in hidden service fees on your purchase, giving you the best bang for your buck on tickets to see your Royals make history this season.
From Hy-Vee level seats, to Crown seats, Tickets For Less offers a wide-range selection of available seats for the ALDS, ALCS, and World Series, and all games not played are 100% fully refundable.
When shopping for your postseason tickets, don't get dinged for service fees and over-pay for your seats. Head to Tickets For Less and see your cost up front, from the beginning of your purcha, and know exactly what you're paying for before you buy.
Don't miss out on any of the action this postseason. Secure your spot inside Kauffman Stadium to cheer on the boys in blue. Go Royals!