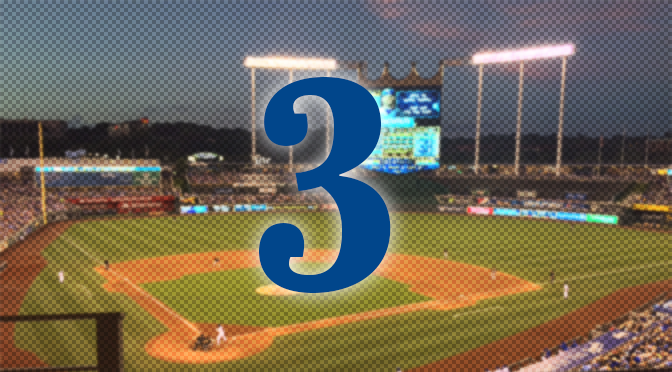 The Kansas City Royals are toeing the line of goal #1 this season; The American League Central Division title.
With a final homestand against the Seattle Mariners and Cleveland Indians, the Royals have a magic number of 3 in order to win the division title.
KC currently holds an 11-game lead over second place Minnesota, so the division crown is coming back home for the Royals, it's just a matter of when. Ned Yost would like for his team to capture the title at home in front of a packed Kauffman Stadium and although they've won just five of their last 16 games, the Royals swung hot bats against Detroit and received tremendous pitching from both Kris Medlen and reliever Danny Duffy, who was recently sent to the bullpen after multiple shaky starts.
As it stands, pitching is the main concern for the Royals, but with 13 games left in the season and Yost likely to start rounding out his 25-man roster for the postseason, KC has time to get things tightened up and ready to go for another run at the World Series.
The feeling in Kansas City is one of skeptical but optimistic at the moment, mostly due to the lack of consistent pitching from the likes of Johnny Cueto, Yordano Ventura, and an offense that has gone quiet at times.
Still, just as they did against Detroit, Sunday, the Royals can put up runs in a hurry and have shown the ability to score by hitting the ball in the stands as opposed to manufacturing with timely hitting and base-running.
Kendrys Morales hit three solo homers to go along with a triple, recording a franchise-record 15 bases in a 10-3 win over Detroit before Monday's off-day.
Kansas City will now take on the Seattle Mariners, a team four games under .500 on the year and in fourth place in the AL West.
Seattle has two all-star hitters in Nelson Cruz and Robinson Cano–both of which have faced Tuesday's starter Jeremy Guthrie many times over the course of their careers.
All three games against Seattle are scheduled for 7:10 pm starts and three wins would mean a division title for the Royals, something which the team would like to accomplish at Kauffman Stadium in front of the home fans.
In need of tickets for the final homestand of the year at Kauffman Stadium? Tickets For Less is your source for seats at incredible prices with zero hidden service fees, which means what you see is what you get before finalizing your purchase. Don't miss your chance to witness history as your Kansas City Royals looks to capture the American League Central title at Kauffman Stadium before hitting the road for the final games of the regular season. Tickets For Less has remaining regular season tickets available, as well as playoff tickets for the ALDC, ALCS, and World Series. Last season was a magical run, and the Royals have unfinished business with their sights set on a World Series crown. Don't miss your chance to purchase 2015 MLB Postseason tickets at Kauffman Stadium!