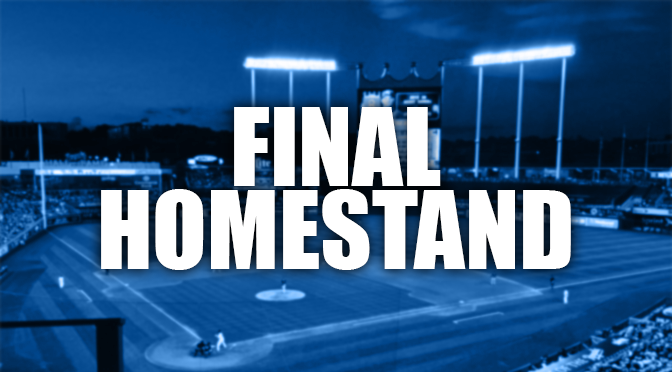 The regular season is coming to close rapidly for the Kansas City Royals. At 87-62 and an 11 game lead over the Minnesota Twins, the Royals are closing in on a division title.
It's been a long season and Kansas City has remained one of the more consistent teams in baseball, even despite an off month for the AL Central leaders.
In their last outing at Detroit, DH Kendrys Morales broke the franchise record for most bases in a game (15) after hitting a triple to go along with three solo home runs.
Ben Zobrist had four hits of his own while Mike Moustakas reached base three times against the Tigers.
Pitching has also seen some improvement recently. In his last outing, Johnny Cueto looked as good as he has since joining Kansas City. The four previous starts were forgettable and had (still has to some degree) fans worried that their acquired ace was slipping at the wrong time.
Frankly, the entire starting pitching staff has slipped up recently.
Danny Duffy was sent back to the bullpen and manager Ned Yost vaulted Jeremy Guthrie back into the starting rotation. Duffy, however, was brought in late in the game and threw 4 great innings, allowing just two hits and striking out 6 batters, including three in the ninth inning.
It would seem, as it stands, Cueto, Yordano Venture, and Edison Volquez are the only set-in-stone starters for the 25-man playoff roster.
Aside from pitching, Yost has some decisions to make in the field as Omar Infante is now being treated for an oblique strain–an injury which takes time to fully heal and will likely keep him off the roster for the postseason.
With Infante appearing to be potentially unavailable, Ben Zobrist becomes the probable second baseman with Alex Rios holding down the right field slot.
Rios has come around at the plate late in the season, looking like the Rios from the early portion of the year before injuring his hand.
Offensively, Kansas City has shown it can put up runs, but without consistent starting pitching, no team is safe in the playoffs.
Most fans are carefully watching the Toronto Blue Jays, which could be the potential ALCS opponent should both teams advance. Since the all-star break, Toronto has looked like the most impressive and dangerous team outside of the almost annoyingly consistent St. Louis Cardinals, who are staring down 100 wins this season.
Up first at Kauffman Stadium is the Seattle Mariners.
Guthrie will take on Hisashi Iwakuma on Tuesday night. Zobrist and Eric Hosmer have had the most success facing Iwakuma, both batting .444 against him over the past five seasons.
The game is scheduled for a 7:10 pm start, as are Wednesday and Thursday's match-ups against the Mariners before Kansas City hosts the Cleveland Indians.
Tickets for all six games at Kauffman Stadium to close out the home schedule for the Royals are on sale now at Tickets For Less. With zero hidden service fees, you know what your paying before you finalize your purchase. Tickets For Less has seats available throughout Kauffman Stadium and at incredible prices. If you are trying to catch the last few Royals games of the season or are heading out for the first time this season, head to Tickets For Less and purchase your seats today.
Playoff tickets for your Kansas City Royals are on sale as well at Tickets For Less. After a magical run to the World Series in 2014, your home-town team is hoping to bring home yet another American League Championship and close out unfinished business by bring home the first World Championship since 1985. ALDS, ALCS, and World Series tickets are available now with ZERO hidden service fees. All games not played are 100-percent fully refundable. Purchase your seats today and don't miss your chance to witness history. Go Royals!